20 Nov

The different ways to sell your motorhome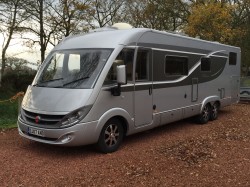 Have you ever tried to sell anything privately – whether it was your car, a family heirloom, simply long forgotten items from the attic, or even your motorhome? If so, you might already be familiar with the hassle involved – not to mention the expense – of finding a buyer and making that sale.
It might be worth having a look at what it usually takes.
Advertising
if you are attempting to sell anything, you need to advertise its availability to potential buyers – a process that may be both time consuming and expensive;;
traditionally, this might have meant an entry in the classified ads of your local newspaper – though you might be surprised by how expensive even a few days advertising through this medium has become;
of course, there are any number of free newspapers these days – but who really reads them?
then there is the internet and the millions of online transactions that are made every day – and therein lies your major problem of making the sale of your particular caravan stand out from the millions of other transactions for all types of goods;
with any form of advertising it is important not to misrepresent the nature of the goods you are attempting to sell – even honest mistakes may be judged to be misleading and therefore land you in a good deal of trouble after the event;
if you want to sell your motorhome fast and free of any expense or risk in advertising the fact, you might instead simply ask us to buy – you have found a ready and willing buyer with just one telephone call or click on our webpage;
Preparation
another time consuming and potentially expensive aspect of trying to arrange a private sale is the money and effort you probably need to put in to making it look good enough to attract a potential customer;
it might take a lot more than just a thorough cleaning both inside and out, but a thorough overhaul – especially if the caravan has been subject to damp and condensation or other major blemishes;
sell it to Caravan and Motorhome Sales (CMS), however, and you can avoid any such preparation, since we mean it when we say that we want to buy your caravan "as is" – and that includes old ones and new; squeaky clean or less than perfect;
The minefield
selling your motorhome privately through an online auction may appear to offer a way of realising the maximum return on your sale;
but they are certainly not without their problems and may sometimes prove a minefield for the unwary – what if you want to withdraw from the auction and sell to a buyer elsewhere, can you set a reserve price, do you have to deliver or does the buyer collect, what if the buyer defaults on the payment and how much commission are you paying the online auctioneers for their service;
the answers to all these important questions and more may be found simply by contacting us at CMS to buy directly from you – completely hassle free.
As may have become clear, therefore, there are ways that may potentially involve a good deal of time, effort and expense in trying to sell your motorhome privately – and then there is the easy way. If the second of these possibilities attracts you simply get in touch with us.